Last night, Grandma, Grandpa, Blake, Gracie, and I sat down to a yummy bowl of corn chowder and watched The Bucket List.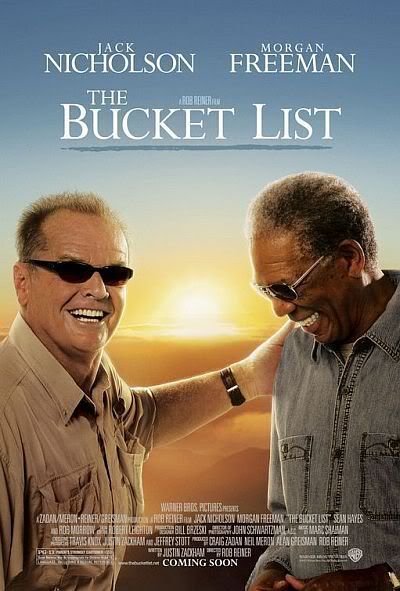 LOVE it! It was such a great show!
The corn chowder is officially my favorite food right now. It was SOOO good. My grandpa has the magic touch when it comes to cooking.
Here is the recipe:
Corn Chowder
2lbs potatoes-peeled and cubed
1 lb. bacon
1 onion chopped
1/2 c. flour
8 c. milk
Cube and a 1/2 of butter
1/2 tsp. salt
1/2 tsp. pepper
3 (15-oz.) cans creamed corn
1/4 c. shredded cheddar cheese
Dash paprika
Boil potatoes in salted water until soft. Drain. Mash half of the potatoes and set aside. Fry the bacon until very crisp. Crumble the bacon and set aside. Fry the onion in the butter until translucent and soft. Dump the cooked onions into a large stock pot. Add the flour and heat until the mixture is bubbly and the flour is well dissolved. Add the milk and bring to a boil over medium-low heat, stirring frequently. Once boiling add the salt, pepper, bacon, corn and all the potatoes. (If desired reserve some of the bacon for the garnish.) Heat soup until hot. Serve with a dash of paprika, a sprinkling of cheddar cheese and some crumbled bacon.